Woking
Information about your local borough
Emmie Harris Sergeant
Your Borough Team for Woking
Sgt Emmie Harris
2431
Sergeant
Find a local police station in Woking
Latest on

Twitter

3 days

Property in #Maybury being used to distribute illegal drugs closed after magistrates granted 3 month order on Fri 9/11. Application made after local residents reported being targeted by drug dealers+frightened for their safety. http://surreybe.at/5ctq8 pic.twitter.com/Ng3fByEVXk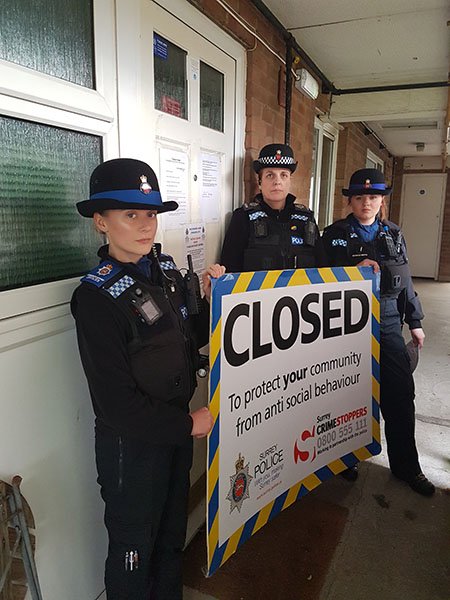 8 days
Man detained under Mental Health Act+taken to hosp w/self-inflicted injuries following incident in #Woking this pm. Town square now reopened. Thanks to all for patience+cooperation while we dealt w/incident. http://surreybe.at/734fo
8 days
Town sq in #Woking closed following reports man threatening to harm himself around 3pm. We're on scene, area closed, no threat to wider public. Further updates to follow. http://surreybe.at/52vds
Latest on

Facebook

WokingPolice

3 days

A property in #Maybury being used to distribute illegal drugs has been closed after an order was granted by Guildford magistrates last week. The application was made after local residents reported that they were being targeted by drug dealers and were fri...

WokingPolice

3 days

On Friday 9th November 2018, Guildford Magistrates Court granted a partial closure order on a property in Maybury. This will allow ONLY the tennants, landlords and emergency services to enter the property. The application was sought after reports of dru...

WokingPolice

7 days

Our community support officers were out tonight supporting the Diwali celebrations. Happy Diwali to you and your family from us all at Surrey Police.