Your Teams
Neighbourhood Team for Sheerwater
PC Tony Charles
40594
PC Sharon Simister
40208
PC Donna Chandler
3815
PC
PCSO Mital Patel
10518
Borough Team for Woking
Sgt Emmie Harris
2431
Sergeant
Send us a Message
If you are reporting a non-urgent incident please use our online reporting form, for all other queries or feedback please use the form:
Please note emails are monitored Monday to Friday 8am till 4pm
Your Local Police Stations
Police stations in "Sheerwater"
Please do not send correspondence to local stations. Instead, use our
postal address
Police Station
Station Approach, Woking, Surrey, GU22 7SY
101
woking@surrey.pnn.police.uk
Opening hours: 8am-10pm daily (In exceptional circumstance station opening times may vary due to staff availability, please call main switchboard for daily confirmation). No public parking available. Bank Holiday 9am-5pm
Crime Map and Statistics
You can now view the latest crime figures for your neighbourhood by using and interactive map
Latest on

Twitter

3 days

Fresh appeal for witnesses after 4 further arrests made following #Sheerwater assault which left 6 people injured. 6 arrests already made Nov '18 http://surreybe.at/4tf2c pic.twitter.com/9Ma4i65z32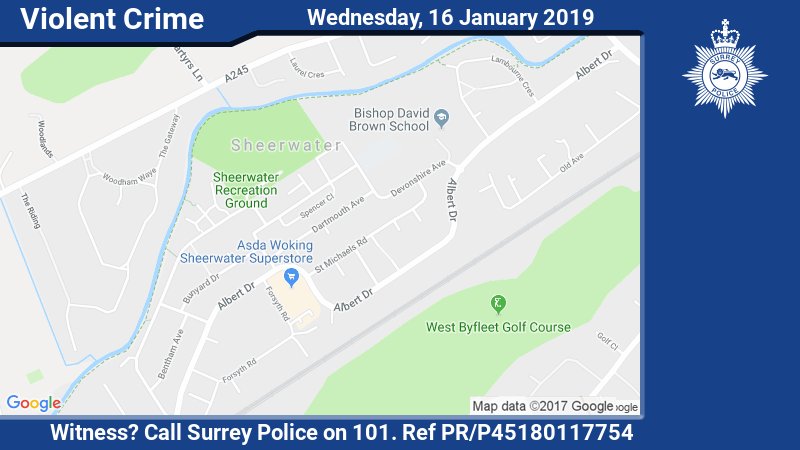 10 days
We're appealing for witnesses after house in #Woking ransacked while occupants away over New Year. Jewellery, electrical items+recently purchased family car stolen. Suspect is male w/prominent nose. Pls call 101 w/any info http://surreybe.at/ms3cg pic.twitter.com/2IooSoWvN8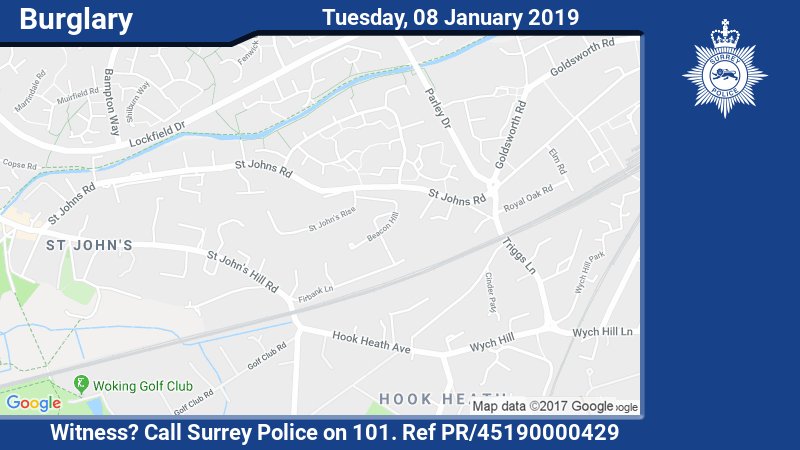 15 days
All roads around Woking Station have been reopened after an earlier collision.
Latest on

Facebook

WokingPolice

3 days

UPDATE: We're still appealing for witnesses following four further arrests made last Thursday morning (10/1) after six people were hospitalised in #Sheerwater last November.

WokingPolice

10 days

Surrey Police, in partnership with Surrey and Bucks Trading Standards, conducted test purchases of knives at various stores in Woking and Surrey Heath on Thursday 3 January. 👍All stores in Woking successfully challenged the young people who were supporti...

WokingPolice

10 days

On Thursday 3rd January, Surrey Police in partnership with Surrey and Buckinghamshire Trading Standards carried out a test purchasing operation in Woking and Surrey Heath. The operation was organised in order to test whether retailers are complying with...